Black Friday Shootout!! T Shirt 2 Stickers 2 Picks 2 Rubber Wristbands and Pushed cd!!
On Sale Free Shipping!!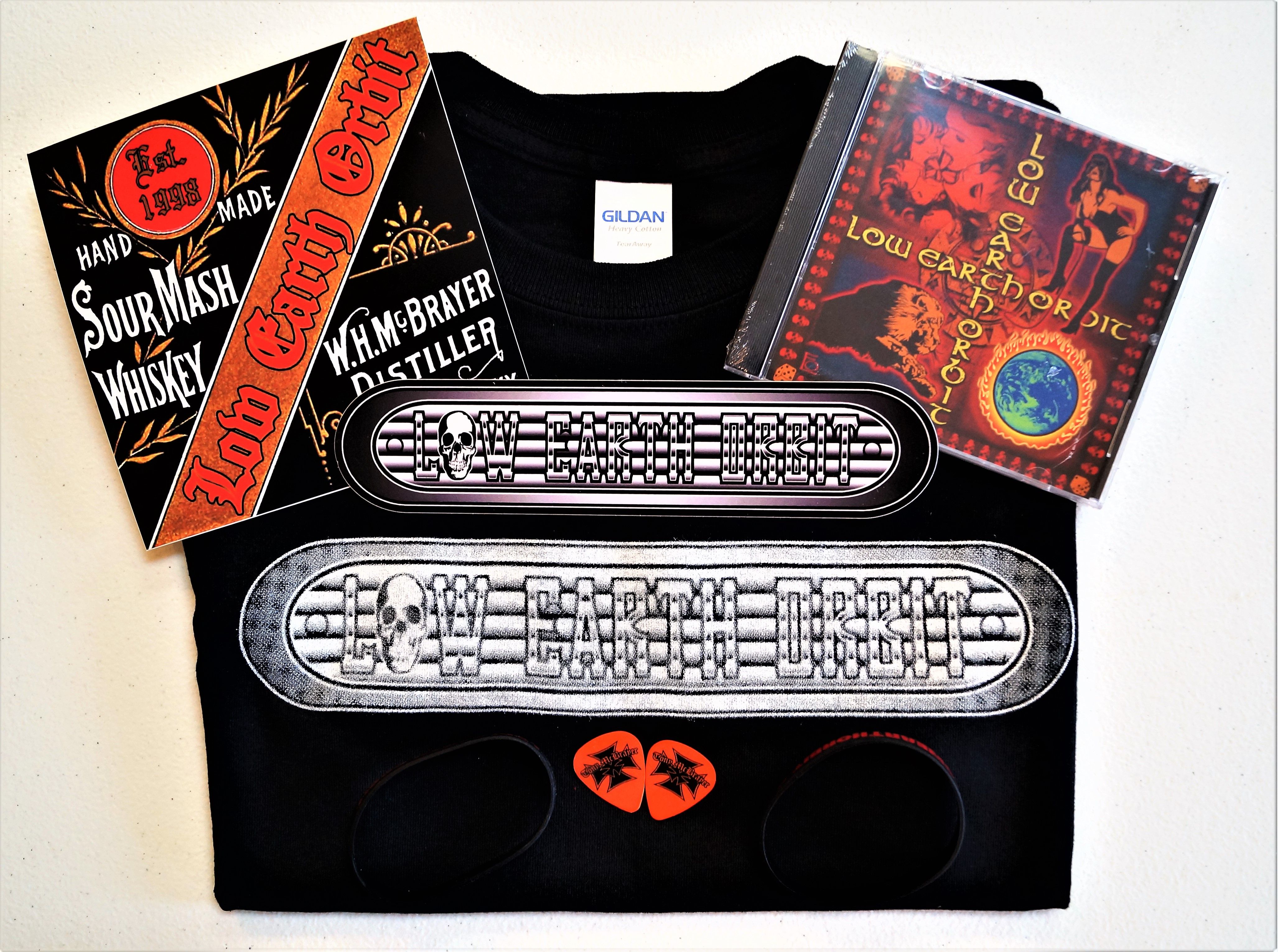 As some of you may know Founding member Tony McBrayer was hit on his #bigdogmotorcycle  #s&smotors on I40 West Bound in Knoxville,TN yesterday. He was basically ran over by a Landscaping Truck. I have spoken to Tony personally and he expressed his gratitude to Naval Security Officer Connor who was 1st on scene and helped him get out of the road quote "He's a good man, I am grateful he was there" the good folks at Parkwest Hospital and Priority Ambulance Service. He is home and hurting. Keep him in your thoughts. Also, we want to say to all of our friends and loved ones in the Gatlinburg,TN Wears Valley and surrounding areas you are in our thoughts wishing you all safety and fast healing terrible losses. #lowearthorbitmusic #lowearthorbit1 #officiallowearthorbit     
  OK, Dudes and Dudettes a lesson on Intellectual Properties ~ For the past few years there has been a band of young men bouncing around Germany trying to steal our name LOW EARTH ORBIT ~ Now having said that we have been using this name since 1998 and We took all legal steps to acquire the tradmark. Dont believe me? Look it up on the U.S. Trademark .gov site public knowledge ~ We spent a fair amount of money to acquire this and all of our copyrights at the Library of Congress...We now have an attorney in Stuttgart Germany at no small cost. All I am saying is protect your rights there are assholes all over the world looking to use whats yours and what you have worked for. If you write a song,a book, a freakin poem and its serious to you and you are going to send it out to the world ~ spend the money take the steps and make it all legal don't screw around ~ Ask the original Bluesmen what they think about all this ~ this isn't a new kinda game ~ just new people ~ and these guys in Germany are probably decent folks ~ but dont give two shits about what they are doing. Wish us luck!! Cheers !

We will never Forget!!!
L.E.O. WANT TO WELCOME JANGO.COM TO THE FAMILY
So show us some Support on this great site!!  


www.jango.com/music/LOW+EARTH+ORBIT+



Orbite terrestre basse sur RADIO METAL!
 Notre seule marque vedette!
Merci DOC & The Radio Metal famille pour votre
soutien!!
Low Earth Orbit
Featured today




Big Thanks to George Noory of COAST TO COAST AM
We would also like to welcome on board for
their support Radio Poland!


ProRadio.pl


Cheers!!
Dziękujemy wszystkim naszym nowym Polscy
kibice i dzięki chłopcy w ProRadio.PL
Thank you to all our FANS Portugal & surrounding Areas!! 
And Big L.E.O. Welcome back to Hard Waves Radio!! 
Bem-vindo Hard Waves & Rádio Todos Metal Fans!
Sem você nós coildn't fazer acontecer!
Low Earth Orbit
Big thanks to everyone at
In Tune Custom Guitar Picks
 for my new Custom picks!!!
They are awesome!!!